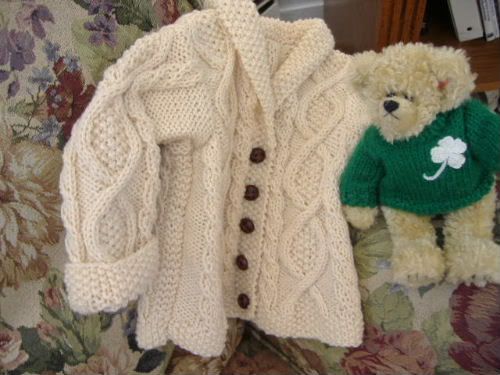 Trellis
Pattern by: Britta Stolfus Rueschhoff
Spring Issue - Knitty.com
trellis pattern

Yarn used: Sirdar Country Style double knitting- 45% acrylic, 40% Nylon, 15% wool - machine washable and dryable
Size: 12 month
Needles: US # 7 Aluminum Boye's
Buttons: 5/8 inch LaMode buttons from JoAnn Fabrics
Modifications: Holly doesn't modify. Holly's lucky to be able to understand the instructions as written let alone modify anything. (although in truth, I did sew the shoulder seams instead of graft them)

Overall impression: Easy to follow pattern although the decreases made following the graph a little difficult. I struggled to keep that all straight in my head. I think the sleeves are long and the size appears to be larger than 12 months. I couldn't be happier with it. It's perfect.
Moving on.....




The wedding in Greensburg was lovely. The reception was in Ligonier at Mill Creek Hall. I should have taken a photo of the cookie table. I never saw anything like it. There had to be a gazillion beautiful cookies. Here I am with DH and the lovely Kelly. And, yes, I have to admit that the whole time I was there I was wondering about those local yarn shops! But you can be sure that stopping there was NOT on DH's agenda. Dragging him to a wedding was torture enough.