Woo Hoo.... 10 hours last night and, boy, did I need them. If that doesn't translate into no knitting, nothing does. I was asleep at 8:00pm. Total exhaustion. The holidays wipe me out. I can't go at that pace. A party every night. Not for me. And it's not over yet. I am looking forward to New Year's Eve with my sister and brother-in-law but after that I want Peace and Quiet for a while!!

This weekend I hope to finish the brown socks and the big Erin Bag. (sans handles, that is) Then I'll work to get Clapotis III finished so I can concentrate on Kepler which I am really enjoying. After that, it's baby, baby, baby for a while.

Last night my little grand niece, Meghan, from Colorado, was wearing the aran hat I made for her last winter. It was nice to see it on her. She looked so cute in it. That was a great pattern and fun to knit. I wish I could have gotten a photo of her wearing it to post but, at 2 1/2, she doesn't stay still for long and she's not having much of me anyway. She is my brother's only grandchild and she looks so much like his late wife's family that it's scary. It's sad my sister-in-law never lived to see her. She died of MS at the age of 52. Meghan was born shortly after she died.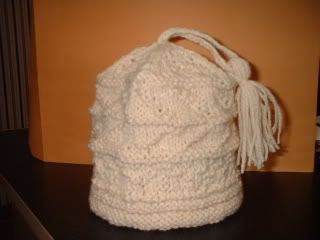 Meghan's Hat

Oh, I heard on TV this morning that there is a 24 hour "Law and Order" marathon on New Years Day. I'm pumped!!! (not that I haven't already seen them all 30 times)