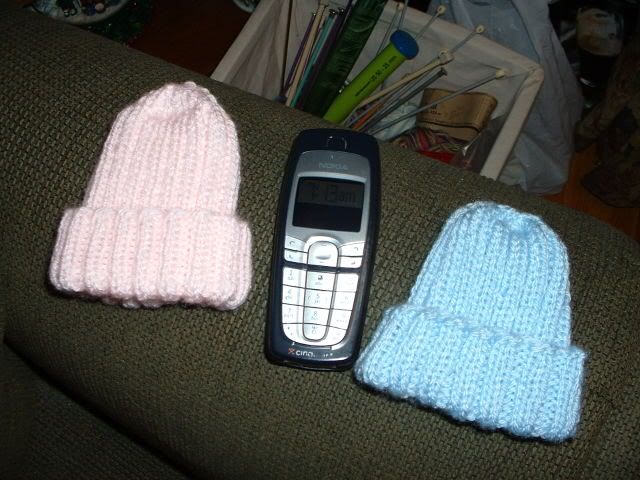 Teeny Tiny Hats. These are fun to make and they're quick. The pattern is calling these infant hats but I have to say they are more like preemie hats. I know they would be too small for a normal newborn. So I need to adjust the pattern if I'm going to make many more of these. Not that preemies don't need hats too! Anyone have a good pattern for newborn nursery caps?

Knitting night was fun. We had the normal crew there. I worked on socks due to the no-brain nature of them. You can't screw up socks while chatting away. I bought some Kertzer 100% mercerized cotton in Navy for another little summer cable purse. I want to make a few more of those so I guess I'll be back to doing business with the rip-off company again for those handles. I really do need to find someone to make those for me.

I've been sneezing my head off. I think my allergies are back after years on hiatus. My summer allergies used to be so bad that I couldn't sleep for days at a time. I know I should have gotten shots but I never did. Then, one year they just never came back. Like magic. I'm getting the feeling that ..... they're baaaaaaack.

Still undecided about Maryland Sheep and Wool. One day or two. If one day, which day. Saturday or Sunday? Probably Sunday. And do I have enough money to spend on yarn to even make the trip worthwhile? I get there and I want everything.

Off to buy lottery tickets. Have a good day.