Happy Halloween Everyone!

In an effort to make sure I'm dressed appropriately for the occasion, Catie gave me these socks which I have on today:




They really are not "me" but they're kind of fun and I tend to dress a little too conservatively most of the time. My co-workers will think I went off the deep end. Anyhow, on to knitting news.

True to my words I didn't knit too much over the weekend. I did hold an Open House yesterday though and I got a good bit of the first opal sock finished. I love the colorway.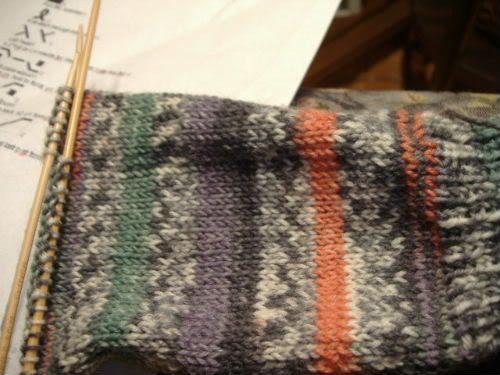 And below is the left front of Trellis which I finished last week. I think the pattern is so nice. I can't wait to put all the pieces together and get this finished.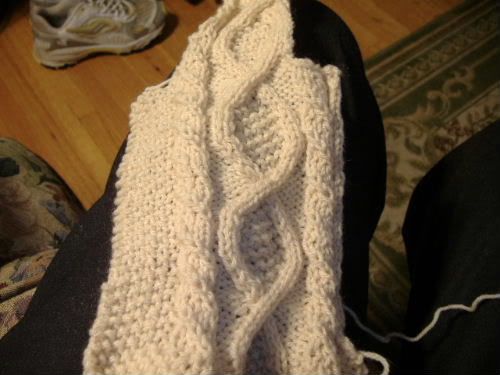 I did stop at the LYS on Saturday and purchased some red Cascade 220 for my nephew's ski hat and scarf. I'd really like to do a stockinette scarf for him to match the hat but I don't know what to do to keep the edges from rolling in. Any suggestions? I guess there is always the k2p2 ribbing but I just hate the constant back and forth changing of the yarn in ribbing and there is no ribbing in the hat.

This time change thing has me all screwed up. I want to go to bed earlier and get up earlier. I can't seem to adjust. And I HATE the fact that it gets dark so early. I think I do suffer from seasonal affective disorder. I tend to hibernate in the winter. When I get home from work, I DO NOT want to go back out. And this time of year is hard on me in terms of business too. People don't want to look at houses in the dark, obviously, so that makes for busier weekends because there is no more daylight after work. Ok, enough complaining!

Have a great Halloween!