This is the cover of my new Vogue Knitting magazine. It is also the cover that they advertise for this issue on their website. However, it is NOT the cover of the magazine I saw at Border's in the mall on Sunday. There was a blue sweater on the cover of that one. And yet, after looking through it, it is the same magazine. I'd love to know from a marketing standpoint why they do that. If it is truly to trick people into buying the same magazine twice that would be disturbing. I can't imagine that's it. But I'd like to know what "it" is.

There are a few patterns in this issue that jump out at me. This:




Love it, love it, love it.

And this: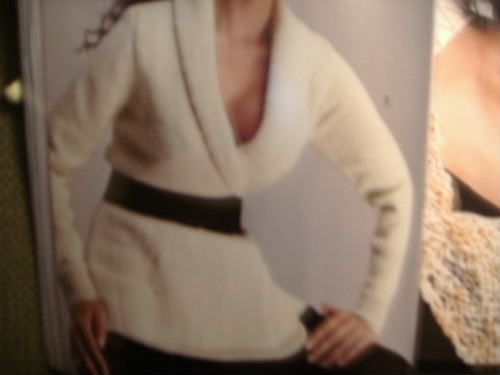 Like it, like it, like it. (I'm not sure I'd bare my entire chest in it like she's doing though)

I also broke down and got a subscription to this ... mainly because I don't care if I see it on the newstand before I get my copy in the mail because it's just not ever that impressive...




However, this issue has a really cute child's sweater in it that would be quick and easy for my niece in colorado... check it out: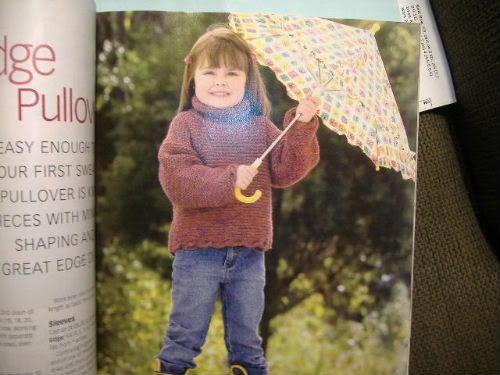 So cute, so easy. I like the little scalloped edges on the sleeves and bottom.

So here's the intarsia photo of the day:




I started the sleeve next because it was going to be fast. Um, yeah. Right. I don't know how many times I've heard my friends at knitting night say that they do not like intarsia. They don't say it's difficult. They just say they don't like it. I get it. It's becoming clear. This is tedious knitting my friends. It is not difficult at all. It just drives you crazy. The back wasn't so bad because you could knit a lot more stitches before you had to change colors but this little sleeve is constant winding, unwinding, twisting, blah, blah, blah. Yes, I know it will be adorable when it's finished. But it sure sucks right now!!!!

I'll leave you with this: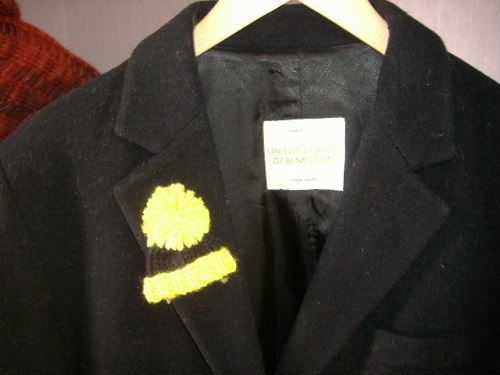 Everyone loves this little pin. I made it in a hour or so last football season. If you want to make one.. go here:Free Knitting Patterns: Miniature Hat Ornaments