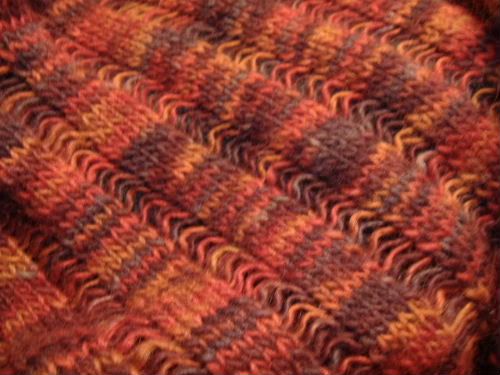 Clapotis III finished
Yarn: 80% Wool 20% Mohair Hand spun and Hand dyed
Purchased from: The Good Shephard
at Maryland Sheep and Wool Festival

Impressions:
Totally the wrong yarn for the project but I knew that going in.
The best thing about the Clapotis pattern is the "spring" in it if you use the correct yarn.
This was not the correct yarn. The finished fabric is somewhat limp and lifeless. But I was obsessed with the yarn and the pattern and I wasn't going to be happy until I did it. First of all, it's a "casual" yarn and not meant to ever dress anything up when used as a wrap. My intention for it has always been for it to be used as more of a scarf with my camel dress coat and it is fine for that. Also, the mohair content in the yarn complicated the running of the dropped stitches much more than I thought it would. I had to painstakingly make those rows run by untangling the fibers with my fingers and sometimes with scissors.
All in all, it's what I thought it would be and I'm happy with it. I just wouldn't advise using a yarn like this for this pattern to anyone else.
My Clapotis I, using the green rayon yarn is probably my favorite thing I ever made for myself. I will make more of these in the future.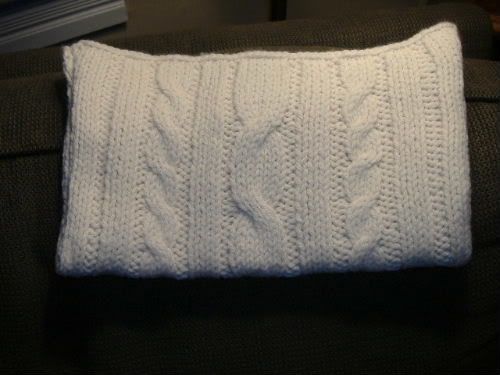 I finished the knitting and lining for the big Erin Bag. I tried it with the handles I have and I didn't like it. They are too small and it just looked stupid. I tried it with some other non-wooden handles and didn't like it. I NEED larger, round, brown, smooth, good-quality handles for this. I can't find them. It just doesn't look right with anything else.




I made some progress on the Kepler sleeve bands. You make the sleeve and waist bands first, block them, and then pick up the stitches for the sleeves and body. This is fun knitting. It goes quickly too since there are only 32 stitches worked on the pattern. My goal is to wear this to my daughter's baby shower on March 18th.

The pattern for baby Corrie's sweater came. After reading it, I realize it's going to be a stretch for me but I need to learn new things and expand my knowledge of knitting techniques so I'm going to jump in when I'm finished with Kepler. There is intarsia involved. I've never done that.

And as for the fruitcake, I don't know about the dog. I saw the one my mother bought over the weekend. It's wrapped in an air-tight, vacuum packed plastic film and inside a cardboard box. I don't think my dog would have touched that. So I'm back to square one on the case of the missing fruitcake!